SV "Ivan Kireev"
Special survey vessel
The SV "Ivan Kireev" was specially designed as a hydrographic research vessel. In April 2012, the vessel was upgraded to carry out geophysical surveys as well as other surveys such as pipeline surveys, seabed surface surveys, hydrographic surveys and geotechnical / environmental sampling. The vessel is deployed in the Far East and Southeast Asia and can carry out research projects around the world.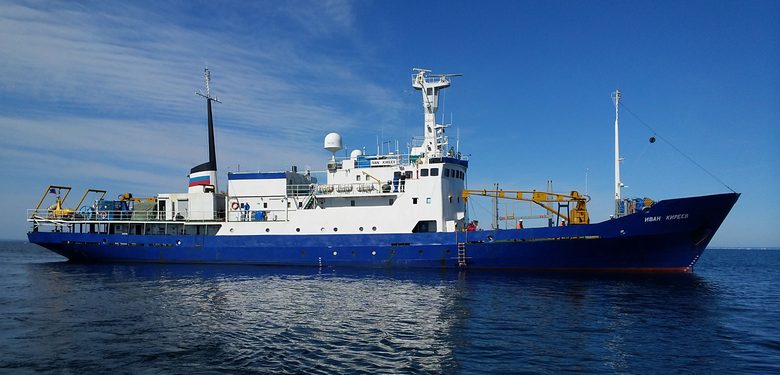 The vessel is equipped with a complex of digital and analog research equipment; there are also specialized instruments and sensors on board for conducting surveys and determining hydrometeorological conditions.
Bathymetry: vessel equipped with R2Sonic Multibeam echo sounder with swath sector up to 160°. MBES installed on vessel's hull. Additionally, dual frequency ODOM Echotrac MKlll single beam echo sounder installed on board the survey vessel. It operating on 33 kHz and 200 kHz frequency. The special integrated navigation system is used for bathymetric data collecting, processing and quality control, which installed on PC. Data postprocessing, gridding, 3D modeling and charting are currying out on board the vessel in Qinsy Office software, Q-loud, Terramodel, Terravista and Autocad. There is technical possibility for color printing in A0 format on board the vessel.
Seabed Sonar Imaging: the vessel carries the EdgeTech 4200-FS side-scan sonar, which combines Full Spectrum and Multi-Pulse technologies. The system can operate in both high-definition and high-speed modes. The system includes two towed fish operating at dual synchronous frequencies of 120/410 kHz and 300/600 kHz. Sonar data is collected using the DISCOVER software package, and sonar mosaics are built using the advanced Triton Map Mosaic One mosaic tool.
Positioning, navigation and motion control: there is three independent differential GNSS systems: C-Nav; Veripos and Trimble with RTK function on board the survey vessel. The systems are capable of receiving differential corrections from high and low power Inmarsat satellites providing true data redundancy. Positioning accuracy can reach about 30-50 cm in dynamics and 10-20 cm in static. A standard accuracy level of 1-2 meters is also available. The navigation system consists of a PC with an INS, a research-grade mechanical gyrocompass, and a fiber-optic gyrocompass. All equipment offsets are accurately measured and entered into the navigation software. The motion of the vessel is monitored and compensated by the Heave-Pitch-Roll sensors. In addition there is a set of spare equipment on board.
Underwater positioning and tracking: The Sonardyne Ranger 2 USBL system is deployed using through-hull hydraulic deployment machine. By default, the system is equipped with USBL mini beacons. LBL Compatt's system and transceivers as well as other types of USBL beacons are available upon request.
Hydrometeorological characteristics: on board the vessel there is a standard set of oceanographic instruments, including: CTD probes and sound velocity profilers, bottom tide gauges equipped with an acoustic release mechanism. Additionally, the following equipment can be provided: automatic weather stations, Doppler current profilers (ADCP) 150 kHz — 300 kHz and single-point current profilers, with the ability to transmit data in real time, buoys that record and transmit data in real time. The collected data is processed and analyzed onshore, and long-term observation reports are compiled.
Survey of the coastal area: the vessel is designed to carry on board a specially designed small survey catamaran, which is lowered using a special davit installed at the bow of the vessel. While the vessel is operating in the position of a support vessel, the catamaran is sailing in the coastal zone (depths 1-10 m) and surveying. The catamaran is equipped with the following equipment: RTK DGPS systems, INS, USBL Kongsberg uPaP 200 system, high-resolution MBES R2Sonic 2024, standard echo sounders, portable side-scan sonar Edge Tech 4125, Pinger GeoPulse profilers or parametric Innomar Compact, cesium marine magnetometer, radio communication kit with a ship, wireless network between the catamaran and the vessel.
Remotely operated vehicles: Observation ROVs and / or Inspection ROVs can be provided upon request. TPA observations can be supplemented with pipe / cable search equipment Innovatum Smartrack.
Technical specifications.
| | |
| --- | --- |
| GENERAL INFORMATION | «IVAN KIREEV» |
| Classification Society | Russian Register of the Marine Fleet, KM * LUZ A2 |
| Flag | Russian Federation |
| Callsign | UCYO |
| Port of build | Hollming Ltd., Finland |
| Year of built / modernization | 1977 / 2012 |
| Length | 68.3 m |
| Width | 12.4 m |
| Max. draft | 4.22 m |
| Gross tonnage | 1267 t |
| Lifting capacity at design draft | 575 t |
| Full capacity in cubic meters | 580/690 |
ENGINE
| | |
| --- | --- |
| Main engine | 6RBV 6M 358, 1×1471 kW |
| Additional engine | 2 x 160 kW |
| Shaft generator | 1 x 148 kW |
| Cruising speed under normal conditions | 13.5 knots |
| Average fuel consumption | 6.0 t per day at 12-13.5 knots 4.0 t per day at 3.5-4.5 knots 0.3 t per day with only generators |
| Fuel | Diesel fuel |
| Tank for storage | 250.9 cubic meters |
| All tank volume: | 268.9 cubic meters |
| Bow thruster | 63 kW |
| Desalination unit | 4 t per day |
| Air conditioning unit | HB 12-18- 5-2 AIB |
| Electrical power | 220 V 50 Hz; 380 V AC; System UPS 220 V 50 Hz |
CRANE AND DECK MECHANISMS
| | |
| --- | --- |
| Bow crane | SWL 5t/14 m |
| Stern crane | SWL 2 t/10 m |
| Bow windlass | 14 kW |
| Fodder capstan | 3.7 kW |
| Small survey catamaran davit | 7 t |
NAVIGATION AND COMMUNICATION EQUIPMENT
| | |
| --- | --- |
| Radar | KELVIN HUGHES nucleus2 5000A |
| Gyrocompass | ANSCHUTS STD 22 |
| GPS | Furuno GP.31 |
| Speed meter | — |
| Main radio | GMDSS FURUNO |
| Inmarsat C | Telex FURUNO |
| V-SAT' | e-mail, phone |
| IRIDIUM | Satellite phone |
RESCUE AND FIRE-FIGHTING EQUIPMENT
| | |
| --- | --- |
| Liferafts | 6 x (6 x 20 people, 2 x 10 people) PSN — 20 m |
| Fire pumps | 2 x 50 cubic meters per hour |
| CO2 fire protection system for engine room and paint store | |
SCIENTIFIC CREW STAFF AND OTHER AREAS
| | |
| --- | --- |
| Scientific staff cabins | 22 men |
| Crew cabins | 20 men |
| Meeting room | 1 |
| Sauna | 1 |